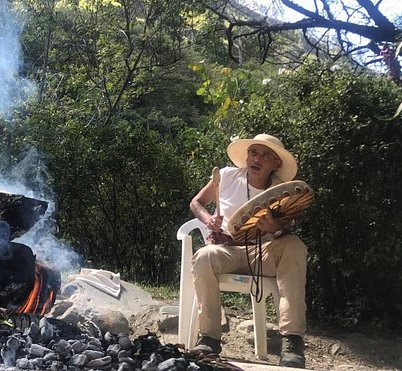 SACRED PLANTS RETREAT CENTER AND SHAMAN APPRENTICESHIP PROGRAM
Miguel was born in Cuenca, Ecuador and at an early age his qualities of perception of spirits and energies were awakened, Since he was 20 years old, he began helping Taitas in ceremonies, and some time later he began to perform his own ceremonies. He first learned to work with Huachuma from Taitas of the Andes. After this he was introduced to Mama Wilka by a shaman from the North of Bolivia, and was initiated in this almost-lost Inkan tradition. He learned to work with Ayahusaca from several respected Shuar Ubishines (curanderos) in the jungle of Gualaquiza.
Miguel has a unique ability of being able to feel the pains of other people, just upon meeting them. This helps him to give excellent cleansings, which can take away physical, mental and spiritual pains and illnesses.
RETREAT CENTER
Corazón de Pachamama is a place where you have the opportunity to cleanse and heal your soul and body. Reaching different levels of consciousness, you can find yourself with beings who love you in this plane of consciousness and others. Through the use of sacred plants, you can connect to Mother Earth and guardian spirits of the elements, plants, and animals, rivers, mountains, waterfalls and other elements of nature.
We work several power plants including Ayahuasca, San Pedro, Wilka and Tobacco to cleanse each guest. We help people working through physical issues, mental health problems, those disconnected from their spirit and nature, and those wanting to remember where they come from.
The ceremonies have no more than 8 people to ensure a personal experience for everyone, and we provide healthy, locally sourced food everyday. Corazón de Pachamama is a humble, family-like, non-commercial center for those looking to learn to live in harmony with nature. We bring guests in like family, and get to know each person and their story. We like to stay in contact with people after they leave the retreat as well.
The ceremonies combine techniques of the Shuar people of the jungle, who work with Ayahuasca, Saraguro and Palta native peoples of the Andes.
APPRENTICESHIP PROGRAM
Aware of the needs in our society, we believe that the ancestral knowledge of working with sacred medicines must be shared with others on this path. Many feel in their hearts and spirits the call to work with sacred plants; they have the vocation and many of them have the gift to do so. For this reason, at Corazon de Pachamama, we invite those who feel this call to walk with us in learning, healing and helping others. Working with plants of power, spirits and the emotions of others is a serious commitment, with great responsibility. It is the most difficult journey you will embark on in your life, but also the most rewarding. To work with medicines, it is important to learn how to protect a space, connect and receive guidance from the medicine and your friendly spirits, cleanse and bring positive energy and light to a patient. It is not something that can be learned in a very short period of time.
The full program will last 4 years. Each year there is face-to-face participation of three months, including three weekly ceremonies with different techniques and teachers, and on some occasions the ceremonies and practices are held in different places. Participants will have the opportunity to work with Ayahuasca, San Pedro, Wilka, Tobacco, in Temezcales, and learn how to give limpias. The number of interns per quarter is only two people.
Those who are interested in this path are welcome to contact us here, and we can set up a time for a phone interview.
ANCESTRAL ANDEAN CEREMONIES
Throughout the history of mankind, plants have played a vital role in human health, so much so that there is no medicine in the pharmacopoeia that is not a principle within a plant.
In the spiritual world, all plants and animals are in motion and alive. They have a collective spirit, unlike man who has a spirit individually for each of us. The collective spirit of plants, animals and other elements of nature, such as rivers, trees, lagoons and mountains, have wisdom and power. This is basic knowledge for the men and women of medicine, curanderos or shamans, in the world, and especially in America. Our ancestors had a profound knowledge of the power of plants and the speciality of each of them. All of them are teachers in their own way, but we work with the plants of power, such as Ayahuasca, Aguacoya or San Pedro, Wilca, Coca, Iguamanzari or Tobacco. Among others, these are sacred plants have the power to lead us to alternate states of human consciousness, in which we are able to experience the reality invisible to the human eye. We can learn to be in relationship with the four elements and their spirit guardians, the subtle world, energies and spiritual laws which affect our lives. Just like the law of gravity, cause and effect, there are spiritual realities we can be made aware of which are impacting us as well. We can tune into these different frequencies.
The ancestral medicines tell us that diseases of the physical body originate in the astral body for different reasons and the work of a shaman with the plants of power is to arrive at the root of internal conflict in the individual to heal the soul and so the physical body. The plants of power allow us to also make a trip to our inner self to heal any internal conflict that influences our daily lives, as well as remove negative energy so we can walk light in this short but wonderful life that is given to us by the Great Spirit, God, The Creator, or any other name we might call it. This Creator wants us to live with love in our hearts for all of our relations on the Earth.
Our work is the spiritual cleansing with plants of power, specifically Grandmother Ayahuasca, Grandfather San Pedro, Grandfather Tobacco and Mama Wilka. May we all find healing and love in this beautiful life.

With regards of Universal Love,
Miguel & Katie
Clemencia is a Mama - an elder indigenous Otavalo ancestral medicine healer. Clemencia works with hundreds of herbs for healing clients, gives massages and gives cleansings with guinea pig - "cuy diagnostico" - which is a traditional practice here in Ecuador for cleansing a person's energy and seeing where their illness lies. From there, she prescribes herbs to cure. She learned this practice from her parents. She will be giving herb talks, and also teach an herbal soap and cream-making class. She is also a midwife-in-training, learning from Mercedes as well. We are grateful and lucky to have her with us.
Mercedes is a Mama - an elder indigenous Otavalo healer and midwife. She is a master in knowledge of Andean medicinal plants, an expert in energetic cleansing and a very experienced psychic. She is president of the midwife organization of her region. She learned from her grandmother at a young age how to work with plants to heal all types of diseases - from diabetes, to early stages of cancer, chronic pain, and any and all types of physical, mental and spiritual illness. She is also a "yachak" - a woman of wisdom, who can give cleansings with perfumes, rocks, eggs, and other tools to clean a person's bad energy, which could be causing problems in their life such as relationship problems, work problems, and emotional instability.
Camila is a Chilean transpersonal psychotherapist and psychologist living in Ecuador, with much experience working with plant medicines and helping folks integrate their experiences. She has experience with adult, couple and family psychotherapy, family constellations, dream constellations, disease constellations, is a reader of Akashic Records and the tarot. All of these services she offers remotely for guests of our retreats at an additional price.
Katie is from Chicago, USA, and is Miguel's partner. She has lived in Ecuador for nearly four years, assisting in Ayahuasca, San Pedro and Wilka ceremonies. She gives limpias (energetic cleansings) and cleansings ceremonies as well. She is honored to be able to work with these sacred plants, and believes they are here to help humanity at the crossroads we are at - they are here to help us remember the ancient ways of living and connecting with each other and the earth. They are here to help us heal, grow, and live in harmony and peace with all our relations. Katie recently completed a doula program and is an ancestral herbal medicine and midwifery student of Mercedes.